Some artists see their work preserved in museums or galleries, public spaces or private homes.
Reproductions of his paintings often are folded into thirds and shoved into parkas or ski pants.
And at the end of the day?
"Every time I go skiing," the Leadville, Colorado, artist said, laughing, "there are hundreds of pieces of my art work in the trash. It's fine, though. It's really fun. I ski by myself a lot and go on the lift and people are looking at the map, and you might strike up a conversation. They'll ask, 'Oh, what do you do?' That."
You can see Mastin's craftsmanship at the top of the San Francisco Peaks. It is his artwork that graces the glossy maps that skiers and snowboarders consult for their runs, trying to suss out which lifts will get them to which catwalk to the black-diamond slopes.
Certainly, the Arizona Snowbowl's map is meant to serve a specific function: to get people where they want to go and not another case for the ski patrol.
Take a closer look at the map, though, and you'll find that it is, well, beautiful.
Notice how just beyond the red line that denotes the Sunset Lift the Kachina Peaks Wilderness Area is depicted in all its intricacy. The jutting green spires represent the ubiquitous ponderosa pines, the subtler-shaded ochre and amber dabs the copses of aspens, the contours and crevasses marked in a cool blue hue.
Notice, too, how Agassiz Peak, the nexus around which the intersecting trails run, stands like a dignified sentinel above the tree line, only partially snow-capped to show off its volcanic origin story.
But for Mastin — commissioned by the Snowbowl two years ago to produce the map, which he updated last year to add the new Arizona Gondola — what makes his Snowbowl rendering different from the scores of ski resorts he's painted, and digitally enhanced, since the early 1990s, is something a viewer overly familiar with northern Arizona might not immediately catch.
"One of the things I was happy about with that painting is, if you look at it from right to left, on the right side I was really trying to capture some of the warmth and dustiness of the desert air in the background," Mastin said. "And as it gets more to the left, you can see as it's getting colder and shadier, and I was happy I was able to capture that. It's a very unique mountain."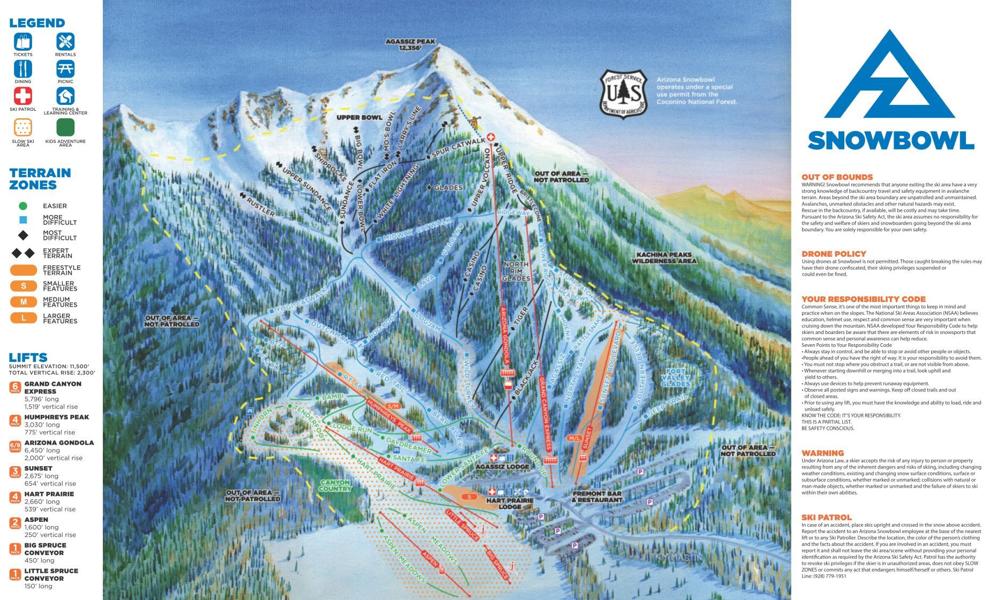 True, northern Arizona's combination of alpine and high-desert environment captivated the artist. As he does with all of his commissioned work for ski resorts, Mastin made a trip to the San Francisco Peaks in the summer, camera in hand, to tramp around and get the lay of the land, the height and scope of the trees, the breadth of the ravines.
Such work is important, he said, for the accuracy of the map. It also satisfies his artistic impulses. And, of course, it's fun.
"It's like, hey, I'm getting paid to hike today," he said.
It's important to get up-close and capture a resort from different angles, across ravines and peaks, Mastin said.
His website, on which people can purchase large reproductions, features many of the sweeping resorts he has painted. There are complicated, many-layered maps for large areas such as Breckenridge (Colorado) and Bear Valley (California), and smaller, more compact resorts such as Mount Southington (Connecticut) and Suicide Six/Woodstock (Vermont).
It's in the details
The Arizona Snowbowl, however, presented a challenge, he said.
"It is an interesting one," he said. "It's a lot different from the mountains around here (Colorado) in that it's just this monarch, this one big thumb out in the middle of the desert. Interestingly, it's not like you can hike a peak across the way and take pictures looking at it, see what it's all about. I definitely had to rely more on maps and aerial photography.
"A lot of the other ski area I paint, I get out there in the summertime and hike the peak adjacent across the valley and do a lot of great photo shoots, get a really good feel for it. But when I pulled up to the Snowbowl, standing at the bottom, and I just looked up at this ravine like, 'Holy cow.'"
Mastin said he normally does not like to rely solely on aerial photographs of ski areas, because there's an inherent lack of scale and deceptive angles.
"You can get some really good images from satellite photography and topography, but the satellite imagery doesn't give you the distinction between one tree and another," he said. "You can't tell if this is a coniferous or deciduous forest. That's why I really like to get out with my camera. You want to note everything. The aspens in winter tend to go gray, the willows and oak brush get a little orangey or pinky. I do try to pick that up as much as possible."
So the Snowbowl was challenge on that front. So ensconced is the resort that the sweeping angles he usually picks up were not an option.
"The resort did have some really nice aerial photography," he said. "A pilot had flown over in winter and had really nice images that helped me get a good feel for the place.
"I waited until summer until there was enough snow gone to where I can actually get out and hike around. They had the scenic chairlift going. So I rode up to the catwalk and basically hiked across the upper bowl to those cliff bands, that farthest-east point, and was able to get a good view shooting across at those main runs there."
It was enough to get a good feel for the Snowbowl. And that's when Mastin returns to home studio in the rare air of Leadville to create the map. At his lighted glass table, he draws the ridgelines and contours on sketch paper, scans the sketch to Adobe Illustrator software, adds overlays of lift lines and trail signage and adds finishing touches such as the changing color of the sky.
Mastin considers himself an artist who creates maps, not a cartographer who adds art to grids.
"I went to art school (Colorado Institute of Art) to become an illustrator, and that's pretty much all I do," he said. "I lucked into this ski maps. I kind of forced myself in."
He explains that, in the early 1990s, he landed a job heading the internal art department at Colorado's Keystone Resort and notices that the resorts map was outdated. He told his boss, who said he "knew a guy," a freelancer, who could update it. "I said, 'No, I'm standing right here and I'm already on salary,'" he recalled.
The most important part of any map, Mastin acknowledges, is accuracy.
"(Resorts) need it to be accurate, because if people get lost you have lawsuits," he said, laughing. "But they want it to be pretty for when they go to the ski shows. Almost every ski booth has a big reproduction of their mountain hanging behind them. It's their signature image, and if you paint it right and do it well, they can use that image for years."
Yet, Mastin likes to think that his maps go beyond mere function as a navigational tool. Some may toss them in the trash on their way off the mountain, but others go on Mastin's website and buy poster-sized reproductions.
"People recognize the art in ski maps," he said. "They'll flatten it out, unfold it and pin it on their wall."